Meet Our Teachers
Cotton Candy Fabrics is fortunate to have a stable of experienced teachers that teach a variety of classes spanning multiple techniques. Whether you are interested in learning to quilt, enhancing your skills, or making bags or apparel, we have a class for you. Beyond our group classes in our state-of-the-art classroom, our teachers are available for custom workshops and private lessons. We're happy to introduce you to them!
Roni has been sewing since 7th grade, and teaching teaching sewing and quilting since 1990. She loves all aspects of quilting, and also enjoys teaching people how to best use their BERNINA sewing machines.

Roni was our first teacher at Cotton Candy Fabrics and teaches many different classes teaching many different techniques. She also leads our Groovy Girls Sewing Club which meets once a month to follow along with Terry Atkinson's projects.
Ken Erdman is a formally trained engineer who started quilting in 1998 as a way to spend more time with his young, artistic family. Ken quickly learned that sharing his knowledge of quilt design and construction brought more satisfaction to his hobby and more friends and family to quilt retreats. Well known quilting instructor Ann Gallo inspired Ken to start teaching and giving seminars to larger audiences in 2004. Ken's quilting style is varied but his favorite pieces incorporate bright, bold color combinations in non-traditional designs. Ken's favorite classes to teach include one block wonder, paper piecing patterns, and a variety of braid quilt designs, all offering students opportunities to express their creative side of design in their quilts.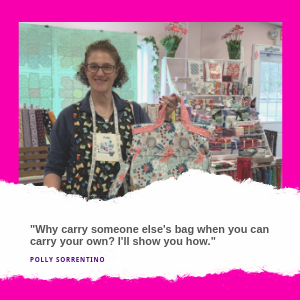 Polly is Cotton Candy Fabrics' official "bag lady," known for having a new purse almost every time she visits. Polly teaches most of our bag classes, making easy work of zippers, pockets, snaps and straps.
Erin is the owner of Cotton Candy Fabrics. She has been sewing since home ec class in junior high school, and added quilting to her sewing pursuits in 1999. She is also an experienced long arm quilter with expertise in Pro-Stitcher computerized quilting, free motion long arm quilting, and ruler work.

Prior to investing in Cotton Candy Fabrics, Erin was CEO of a NYC advertising firm.